Strolling Entertainment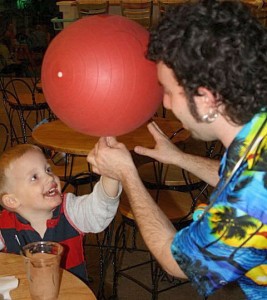 Interactive and engaging entertainment with tons of audience participation!
A PERFECT way to keep all the kids and families entertained!
Strolling, or Walk-Around entertainment, is entertainment that is constantly moving around the event, keeping everyone entertained!
Features tons of fun interactive and hands-on skills that allow kids to actually try out, and do, a huge variety of tricks!
Spinning balls, frisbees, plates, juggling sticks, Chinese Yo-Yo's (diabolos), all types of juggling props, and skill toys are all used along with lots of comedy!
With Strolling Entertainment, kids don't just watch, but rather they are active and get to BECOME THE JUGGLER through interaction and the opportunity to actually try out tricks for themselves!
Strolling Entertainment can take place before or after a performance, or by itself!
Also features "mini-shows" that provide a quick display of skills with audience participation!
Stilt-Walking can be included as Strolling Entertainment!
This is perfect when you want entertainment for kids and families that is fun, interactive, and engaging, but there is no space for a formal live "stage" performance.